Click here to print the Paleo Banana Bread recipe!
What do you make when you have a couple of ripened bananas? When eating Paleo or Whole 30, there's actually quite a few possibilities! This time however, I opted to make a good ol' fashioned banana bread because of a recipe I had seen recently. The problem was that I didn't have the same ingredients it required! Now what!?!? I started to look at some other recipes for banana bread - nope, still didn't have everything it required. Then I looked at some recipes for Paleo pumpkin bread - still nope. Now what!?!?
Enter in my experiment mode to use what I did actually have in my pantry. A little of this. A little of that. And voila! The perfect Paleo banana bread was created. (And I do mean perfect...I surprised myself!)
The menu (Paleo): banana bread.
Shopping List
2 ripe bananas
1/2 cup coconut flour
1/2 cup arrowroot flour
4 large, organic eggs (room temperature)
3 tbsp coconut oil (melted)
1/4 cup pure maple syrup
1 tbsp pure vanilla
3/4 tsp baking soda
3/4 tsp baking powder
1/4 tsp nutmeg
1 tsp cinnamon
1/2 tsp sea salt
Preheat your oven to 350* F. Coat the sides of a 9"x5" bread loaf pan with coconut oil.
In a large mixing bowl, combine the dry ingredients and mix together well. In a separate bowl, mash the two bananas and combine the rest of the wet ingredients. Add the wet ingredients to the dry ingredients and blend thoroughly using a hand mixer. Allow the batter to sit for about 5 minutes before transferring the contents to the bread loaf pan.
Bake at 350* F for 30-35 minutes before checking the bread with a toothpick. Insert a toothpick into the center of the loaf. When it comes out clear it is done baking. I turned my oven off at 30 minutes but allowed the bread to continue baking for 10 more minutes in the oven. My hope for this was to let it finish cooking yet not over cook it and dry it out as I was literally making up this recipe on my own. Turns out, that was the perfect trick. The Paleo banana bread was baked perfectly with the right firmness on the outside, moist on the inside, easy to slice and it held together perfectly should you want to spread anything on top of it like almond butter, etc.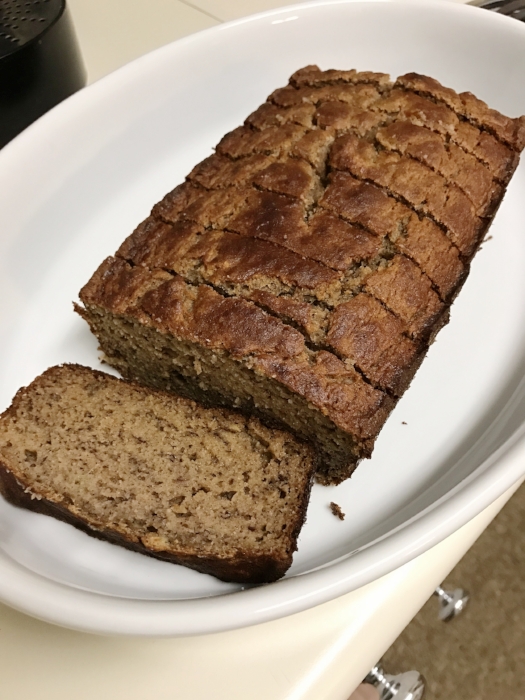 I hope you enjoyed this post! If you make the Paleo banana bread I'd love to hear feedback. Also, if you're interested in other Paleo breads I have made, then you can check out the various recipes I've shared by clicking here. You can also find all of my previous recipe posts here.
XOXO