Print the Coconut Crusted Chicken & Charred Broccoli Salad recipe here!
Happy Tuesday! I'm sharing a quick, easy, and indescribably delicious recipe today that's Whole 30 and Paleo friendly - coconut crusted baked chicken with charred broccoli "salad" that I'm uncertain how it even got it's name! I adapted the recipe from Chocolate and Zucchini's original recipe.
Although I have followed the recipe thoroughly before and LOVED it, this time I forgot to buy avocados and let me tell you - it was still incredibly delicious! I do have to thank Konni for sharing the recipe with me originally. It will forever be an easy staple side dish recipe in my repertoire of dinner & lunch meal ideas! Yes, it is THAT good. Between the texture and the flavors all melding into one, you won't be able to determine which part about it you like best.
Plus - this is the perfect recipe to kick off eating healthy this year. =)
Shopping List:
-Coconut Crusted Chicken-
4 thin cut, organic boneless skinless chicken breasts
1 egg
unsweetened shredded coconut
Cajun seasoning (paprika, cayenne pepper, garlic powder, onion powder, salt)
-Charred Broccoli Side-
1 large head of broccoli
olive oil to drizzle
2 handfuls of herbs of choice (recently used basil, rosemary, oregano)
1 tbsp tahini
1 tbsp lemon juice
sea salt
black pepper to taste
Preheat the oven to 375* F. Rinse and cut the broccoli into florets and spread them out on a foil lined baking sheet. Drizzle with olive oil and a sprinkle sea salt over the broccoli. Roast for about 30-35 minutes until charred.
Meanwhile, mix together the tahini, lemon juice, and herbs in a bowl and set aside. Once the broccoli is done roasting, mix the broccoli in with the sauce before serving.
Once the broccoli is in the oven, you can begin coating the chicken. Dredge the thin chicken breast through a mixed egg and then coat both sides with unsweetened shredded coconut. Sprinkle each side with Cajun seasoning (or just salt/seasoning to your preference). Place the chicken on a foil lined baking sheet and add it to the oven to bake for about 20 minutes, until thoroughly cooked through and no pink remains. (Be careful on timing so that you don't under or overcook the chicken! The broccoli dish can be finished and wait while the chicken cooks, if desired, as it is also delicious served room temperature or cold.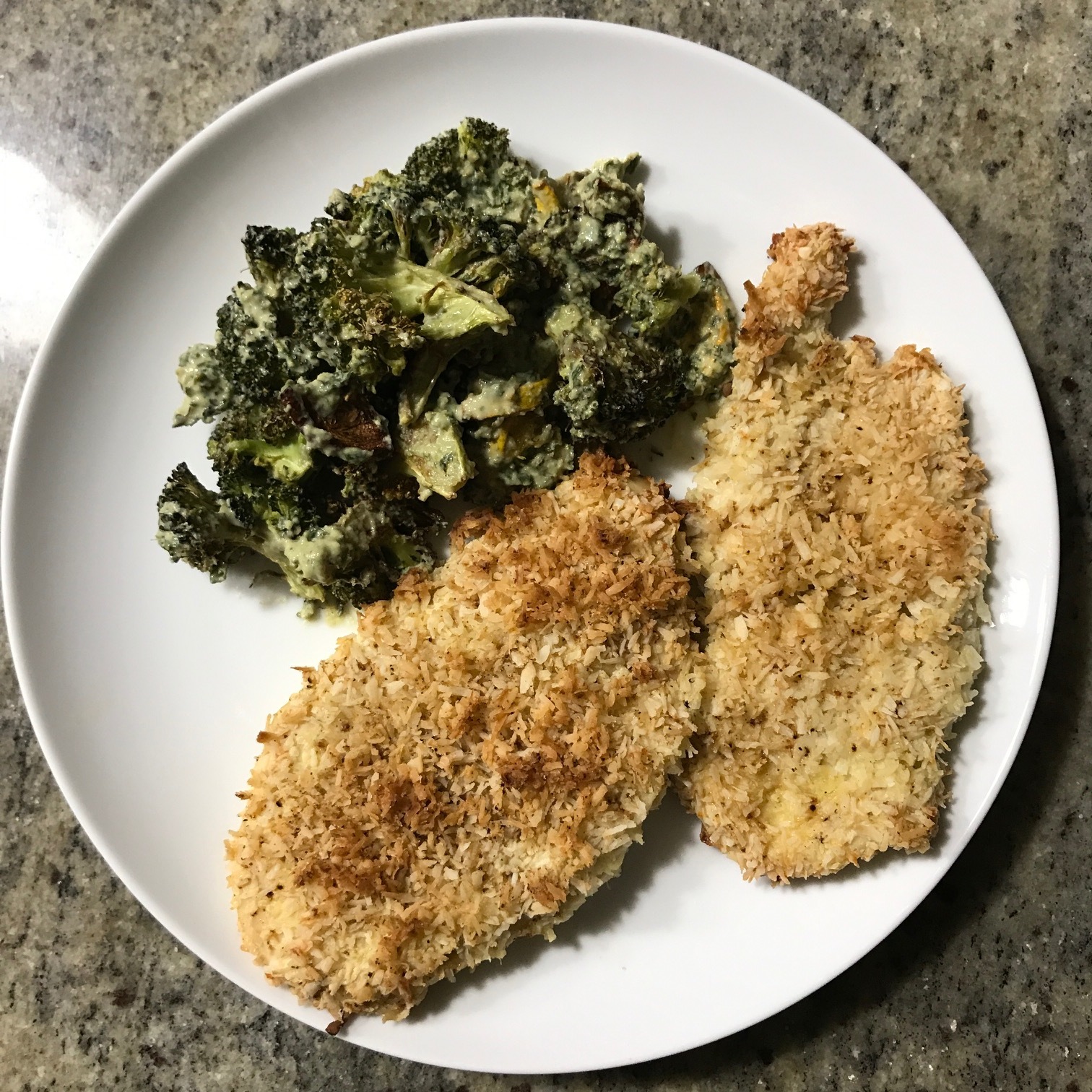 Coconut Crusted Chicken w/ Charred Broccoli Salad
Have you used coconut in recipes lately? What ways have you enjoyed it? Comment below! I love the slightly sweet flavor it adds with the saltiness of the seasoning. So delicious!
XOXO