*I've edited and revamped the original 2016 post based on making it again this year in 2017*
I'm still holding on to my love of pumpkin and squash by integrating them in to meals as much as possible. Thanksgiving might be over, but there are plenty of days left to use pumpkin and winter squashes this season.
I made this chili last year in my Wemo Crock-Pot and loved it so much that I've been anxiously waiting for a cool day to make it again this year. Well, that day came late October when we had a brief but GLORIOUS cold front one weekend and I made a giant batch of this (3 times my original recipe) on the stove top with a couple of minor tweaks. We sat outside on the patio, enjoyed this healthy chili with all of the very unhealthy sides like Fritos, cheese, and hot dogs. Oops! At least the chili was healthy!
The recipe is Paleo and Whole 30 friendly and you can make it on the stove top or let is simmer in a Crock-Pot for a few hours. Mine simmered on the stove for about four hours total, but I was simultaneously working on other things so I was able to keep watch on it, stir it, and tweak it as needed. I didn't use a Crock-Pot merely because I didn't have my two slow cookers with me to accommodate the amount I was making. Also, I did add two cans of ranch style beans in at the end for my family, although it didn't need it and it didn't change the flavor. Feel free to add beans if you're not strict on Paleo/Whole 30.
Shopping List
1 lb organic ground turkey (chicken, or lean beef)
1/2 purple onion
2 cloves garlic
1 orange bell pepper (red or yellow will work too)
1 jalapeño
2 cups cubed butternut squash
1 1/2 to 2 cups organic chicken broth
1 can 14.5 oz diced tomatoes
1 can 10 oz Rotel
1/2 to 1 can pumpkin puree
1 tbsp coconut oil
3 tbsp chili powder
2 tbsp paprika
2 tsp cumin
2 tsp garlic powder
1 tsp all spice (or pumpkin pie spice)
pink Himalayan salt to taste preference
Directions:
1) Dice up the half of an onion, dice or mince 2 cloves of garlic. Begin heating a saute pan over medium heat and add 1 tbsp of coconut oil. Once the oil is melted add in the diced onions for about 5 minutes, then add the garlic and 1 lb of ground turkey. Cook the turkey until completely cooked with no pink visible. You can add additional seasonings while you brown the meat, it only adds more flavor to the chili which is always a good thing.
2) If using a slow cooker, line your slow cooker with a slow cooker liner if you have one and use them. I like to use these to reduce the clean up and prevents any food from sticking to the stoneware basin.
3) Transfer the cooked ground turkey mixture to the pot or slow cooker. I used my amazing Wemo Crock-Pot! Add in the can of diced tomatoes and the can of Rotel.
4) Wash and dice the orange bell pepper and jalapeno. Make sure to remove the inside/seeds from both the bell pepper and the jalapeno. Add these to your slow cooker.
5) Add in: 3 tbsp chili powder, 2 tbsp paprika, 2 tsp cumin, 2 tsp garlic powder, and 1 tsp all spice (or pumpkin pie spice).
6) Lastly, add in 1 and 1/2 cups or 2 cups of organic chicken broth and .5 to 1 can of pumpkin puree. If you're making your chili with beef you can also use beef broth. *You can add in 1 to 2 cans of ranch style beans if you're not following Paleo/Whole 30.
7) Cook the chili on low heat for at least 3 hours or until the pumpkin pieces are soft. Mine was perfectly ready in 3 hours. If preparing on the stove, make sure to stir occasionally.
8) Serve the chili!
I'd say the serving size would be 4-6 servings depending on your bowl size.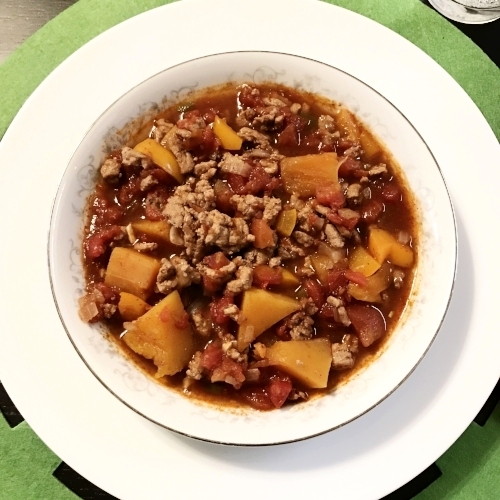 Turkey & Butternut Squash Chili
I hope you enjoyed this recipe. Please share with someone and don't forget to subscribe below so you don't miss out on any future posts!
XOXO