Print the Greek Meatball and Avocado Tzatziki recipe here!
Hello, friends! St. Patrick's Day is next week and I'm re-sharing another green colored recipe. I am not kidding when I say that this recipe was one of the simplest recipes to throw together and had excellent flavor. I had to literally stop myself from eating both servings at once, it was that good.
The recipe today is Whole 30 compliant, Paleo friendly, plus low carb. #threetimesthewin I used up the rest of the cucumber by spiralizing it and adding a little extra Tzatziki sauce to it to make it feel like an actual dinner and not just an appetizer. Also note that there is no dairy in the tzatziki sauce so any vegan followers can use that part of the recipe for other dishes.
Shopping List
For the Greek Meatballs
1/2 lb ground turkey (beef or lamb can be used too)
1/4 cup red onion, diced
1 garlic clove, minced
1/2 tsp lemon juice
1/2 tsp dried oregano
1/2 tsp ground coriander
1/4 tsp ground cumin
sea salt and pepper, to taste
For the Avocado Tzatziki Sauce
1/2 small avocado
1/4 medium cucumber (the remaining cucumber to be spiralized)
1 garlic clove
1 tbsp red onion, diced
1 tbsp lemon juice
2 tbsp fresh dill
sea salt and pepper, to taste
Greek Meatballs: Preheat the oven to 350 *F. Combine all of the meatball ingredients together and mix well. Scoop out a heaping tablespoon of the mixture at a time and roll into meatballs about 1.5 to 2 inches in size. Mine produced 8 meatballs. Using a foil lined baking sheet with raised edges, bake the meatballs for 25 minutes.
Avocado Tzatziki Sauce: Combine all of the ingredients together for the tzatziki sauce in a food processor. Blend on high until smooth in texture.
Using the rest of the cucumber you have remaining, cut off the ends to have flat surfaces and place on your spiralizer. Using blade C, if you have the Tri Blade spiralizer, turn the handle to produce cucumber "noodles". You can serve the meatballs and tzatziki over them for a refreshing addition to the meal!
Serve immediately when the meatballs are finished cooking and you have yourself a delightful, lite but filling dinner!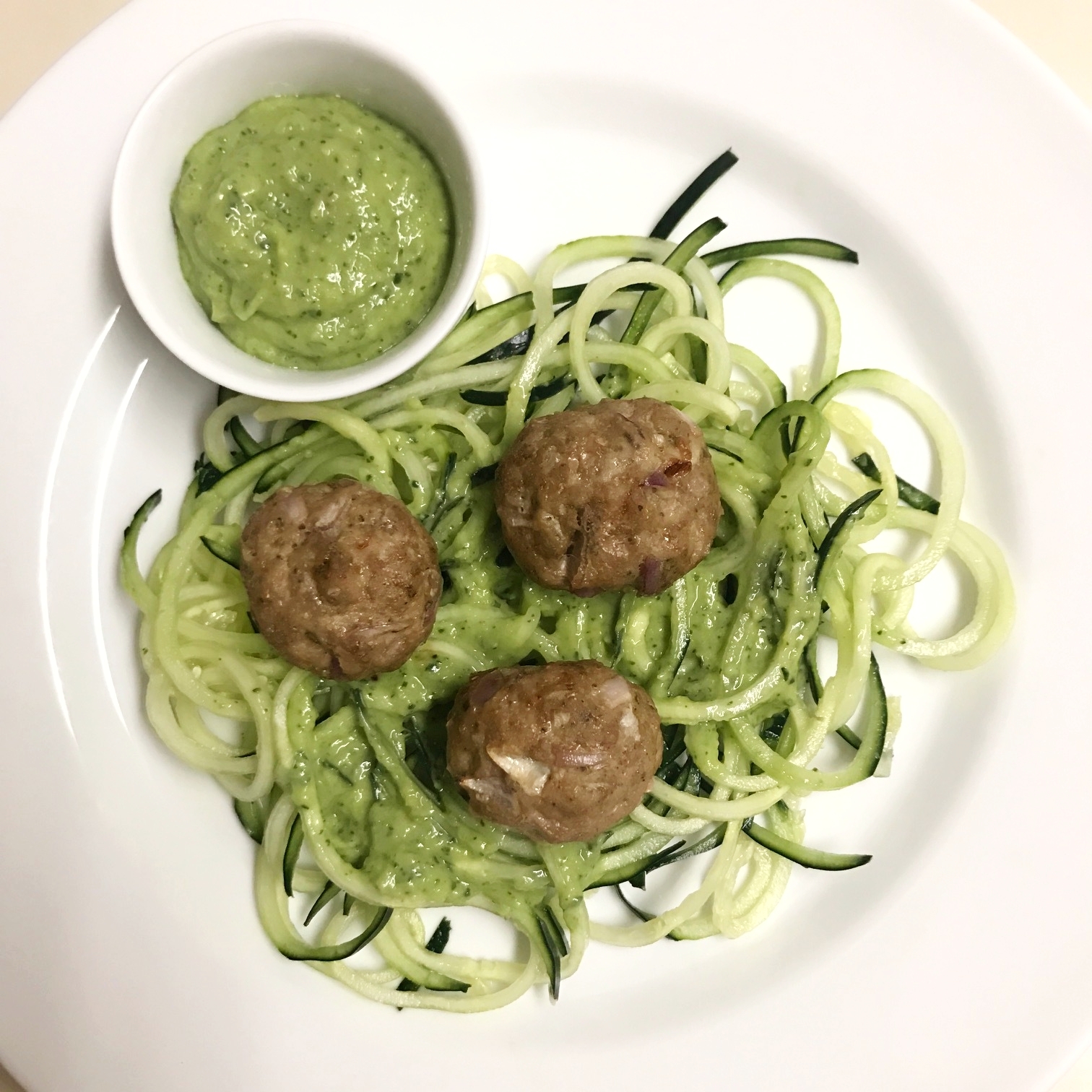 Greek Meatballs w/ Vegan Avocado Tzatziki Sauce
I hope you enjoyed this recipe post and please share with someone if you do! Have you tried any new recipes recently?
If you haven't subscribed yet, please do so below so that you don't miss out on any future posts.
Wishing everyone a wonderful and blessed week ahead!
XOXO